Use Flipbook Software AnyFlip to Self-publish Your Educational Flipbooks
As everything goes digital now, multimedia teaching has been widely used in the classroom. As a teacher or a professor, you can deliver your learning materials in your plain PDFs or in your digital flipbooks nowadays. We have to admit digital flipbooks with rich multimedia contents will engage your students more easily than the static PDF documents. Fortunately, now you are able to self-publish your own digital educational flipbooks with different versatile digital flipbook software in the market.
Whether you are a professional designer or an amateur in publishing flipbooks, AnyFlip can help you to self-publish your engaging and animated digital educational flipbooks in a professional way. You don't need to make your digital flipbooks from scratch. What you need to do is to import your PDF documents, and then your vivid flipbooks will appear in front of you directly.
Here is a simple video tutorial telling you how to self-publish your flipbooks:
Four Tips to self-publish your awesomely engaging educational flipbooks:
Tip 1: Flexibly import your original PDFs, images or MS documents
When you import your PDFs, Word or PowerPoint documents in this software, your digital contents in your original documents won't be changed. In addition, before converting your PDF into realistic flipbook, you can decide whether to import all pages or just select a certain page range to import. At the same time, you are allowed to import original bookmarks and links, customize wide page settings and add watermark if you wish. If you want to protect your learning material from plagiarizing, adding watermark is highly recommended.
Tip 2: Animate digital flipbooks contents with rich media
How to make students more willing to review your learning materials will become simple when you animate your digital PDF documents with rich media such as images, movies, YouTube/Vimeo videos, audios, flash animations, sliders and the more. If you want to emphasize on the major or difficult points of your lessons, you are recommended to add hotspots or buttons to those contents, which will give your students a hint to pay attention to.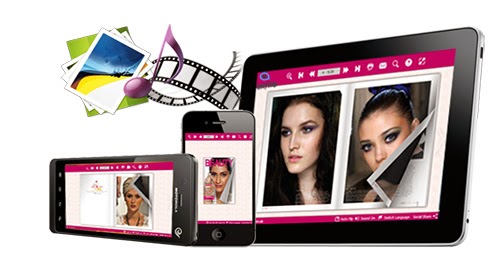 Tip 3: Add vivid cartoon assistant to explain difficult points
Cartoon assistant is another awesome characteristic of this flipbook software. You are able to dub your texts with vivid audios in this software. On the one hand, you can record and import audios for each page on your own. On the other hand, it also allows you generate audios automatically according to the texts. The text-to-speech explain way will engage your student by mimicking the real classroom.
Tip 4: Upload your educational flipbooks online
It provides a quick and simple way for you to share your flipbook learning materials with your students. Once you upload them online, you are able to share your flipbooks' URL link with your students via social media, email and QR code directly. Your students can read those flipbooks on different mobile devices such as iPad, iPhone, iPad Mini and Android tablet and phones.
To sum up, flipbook software is a wonderful digital publishing solution to self-publish your online educational flipbooks with rich media digital contents, which can be shared and read on iPad, iPhone, iPad Mini and Android tablet and phones.